Navassa Island
---
Name: U.S. Territory of Navassa Island
Location: 18 25 N, 75 01 W (between Jamaica and Haiti)
Area: approx. 2 sq. miles
Population: uninhabited
Landing Point: Lulu Bay
Political Status: Unincorporated U.S. Territory
Administration: U.S. Fish and Wildlife Service, U.S. Department of the Interior
Travel: permission required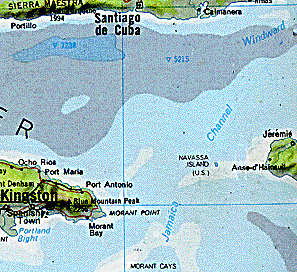 Map: Courtesy Rand McNally International Atlas


---
WEBSITE TABLE OF CONTENTS
---
RECENT NEWS
Forgotten Again. Apparently, to claim an exemption enjoyed by the residents of overseas U.S. territories, some American taxpayers have claimed residence on uninhabited U.S. islands. The U.S. Internal Revenue Service has declared that this is not allowed. However, in IRS Form 570, the IRS hasn't include Navassa in the list of uninhabited U.S. Insular Areas from which income cannot be declared for purposes of a tax exemption. Some of the listed islands are also protected wildlife areas so Navassa's omission would seem to be an oversight.

Defended Finally. When the U.S. Department of Defense organized it in 2002, the U.S. Northern Command received an Area of Responsibility (AOR) north of a demarcation line that went through the Windward Passage, including Cuba but not Haiti. Nobody realized that the line bisected Navassa. After having the matter passed back and forth between Northern Command and Southern Command as a result of my inquiry, Northern Command has now accepted responsibility for Navassa.
---
NAVASSA BECOMES A WILDLIFE REFUGE
On August 29, 1996, the U.S. Coast Guard decommissioned the automatic navigational beacon on Navassa and notified the State Department that it no longer wanted to administer the island. Since the early 1990s, Global Positioning Satellites have made the light unnecessary to guide large cargo ships around Navassa.

An inter-agency task force transferred Navassa to the U.S. Department of the Interior. By Secretary's Order No. 3205 of January 16, 1997, the Office of Insular Affairs in the Interior Department assumed interim responsibility for the island. A scientific expedition organized by the Ocean Conservancy in Washington DC visited Navassa from July 23 to August 5, 1998, with the support of the Interior Department. Subsequent visits have confirmed the island's unique value as a Caribbean ecosystem virtually untouched by the twentieth century. These visits included a 1999 visit by the U.S. Geological Survey and a 1999 mapping mission conducted by NASA's planetary geodynamics research program. For more recent information on scientific findings about Navassa, see here and here.

On December 3, 1999, the Secretary of the Interior signed Secretary's Order No. 3210, delegating Navassa to the U.S. Fish and Wildlife Service as a National Wildlife Refuge. The twelve mile nautical zone around the island is a protected National Ocean Wilderness. The island and its surrounding waters are now closed to visitors.


---
This website maintained by David Billington
Last updated: October 7, 2021.